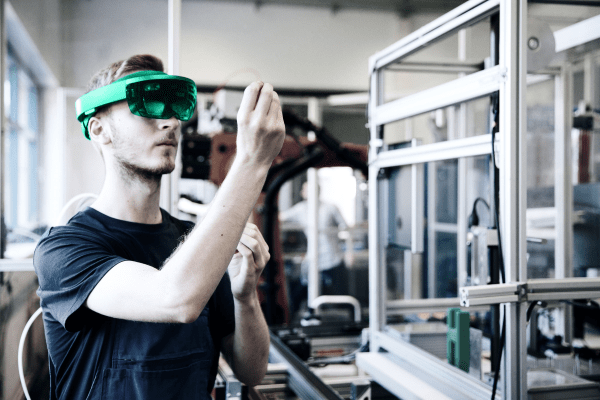 The development of the AI-supported asset management platform "talenta" is funded as a joint project within the innovation initiative mFUND with a total of 643,240 euros by the Federal Ministry of Digital Affairs and Transport (BMDV).
Berlin – Bochum – Bremen – Heusenstamm: Together with the project partners concedra and the Constructor University Bremen (formerly Jacobs University), vectorsoft will create an intelligent asset management platform over the next 2.5 years, with which digital twins can be easily created and used. This should significantly improve transparency in the planning and operation of transport infrastructures (roads, bridges, rail networks, etc.). The low-code platform yeet from vectorsoft is used for the implementation.
The public launch event of the project took place online on March 7 with the participation of the BMDV. In her welcoming speech, Ms. Astrid Ullwer, officer of the mFund funding program, emphasized: "talenta promises a practical and innovative application for the mobility of the future. The project prevailed in the competition against other project proposals – due to its cross-company approach."
The expected result is a platform solution that will be used by the various companies involved in the construction or maintenance of an infrastructure. Small and medium-sized companies in particular will be involved, thus promoting collaboration between them. The solution consists – among other things – of semantic data management and predictive models. Here, machine learning and probability calculation are used to predict for results. The project designs a specific form of artificial intelligence, "Explainable AI", which makes the decisions of a machine learning model transparent and understandable.
The purpose of the project is to benefit SMEs in particular through the digitization of transport infrastructure. The goals of the talenta platform to be developed are the efficient execution of maintenance, expansion, conversion and dismantling as well as cost reduction in the development of corresponding simulation models and tools.
"The approval of this challenging project is a great honor for all involved" says Dr. Markus Pilz, CEO of vectorsoft.
Further information on the federal website.
Project partners
About the BMDV's mFUND funding program
As part of the mFUND funding program, the BMDV has been supporting research and development projects related to data-based digital innovations for Mobility 4.0 since 2016. Project funding is supplemented by active professional networking between stakeholders from politics, business, administration and research and the provision of open data on the Mobilithek portal. Further information can be found at www.mfund.de.